Geoff's brother and his wife are having their first baby in February.  They've been married almost 13 years so I cannot wait til the baby gets here and they go into complete and utter shock.  hee hee.
The shower for baby boy Rex was on Saturday and I found out the week before that I would be doing the decorations.  So I tried to throw something together rather quickly and on a pretty limited budget.  I have to say, I'm pretty impressed with myself!!  The room was a small party room at the local community centre so didn't have much ambiance but we made it work!
The baby's room is done in a monkey theme so we went with the same theme for the shower as well.  I found the cutest ever monkey decorations from Parties by Hardie.  I purchased a pdf file through her etsy shop and it had 70 pages of the most adorable decorations to print off and put together.  I also watched a bunch of Youtube videos on how to make pom pom's.  I didn't find any one video that seemed to work so used bits and pieces from a few.  Once I got the hang of it they took about 15 minutes each to make.  And for each package of Dollarama tissue paper I got 4 pom's.  Then Sage and I spent ages putting together paper chains.  That was a huge flashback to my childhood.
I had a friend (thanks Kendra!) pick this monkey (which is actually a garbage can) up for me at Target and then  I begged, borrowed and stole all the other monkeys I could find for the table centerpieces.
And when I ran out of monkeys I used bananas.  Ha!  The greenery in the vases (which were left over Ikea ones from our wedding) are branches that I sent Geoff out into the backyard to cut.
Wrapped the water bottles and made napkin rings!  The frames at each centerpiece are from Dollarama and the printouts inside are from here.  The coordinating pieces from that line are super cute too but just didn't have the cartoon monkey look that I wanted to go for.
The Mommy-to-Be's table.
My pom pom's!  I am seriously so in love with these things that it's ridiculous.  Brought them home to hang in Jasper's room.
Made party hats for the 2 little girl's that were invited.
The Mommy-to-Be modelling the super embarrassing hat Sage wanted to make her.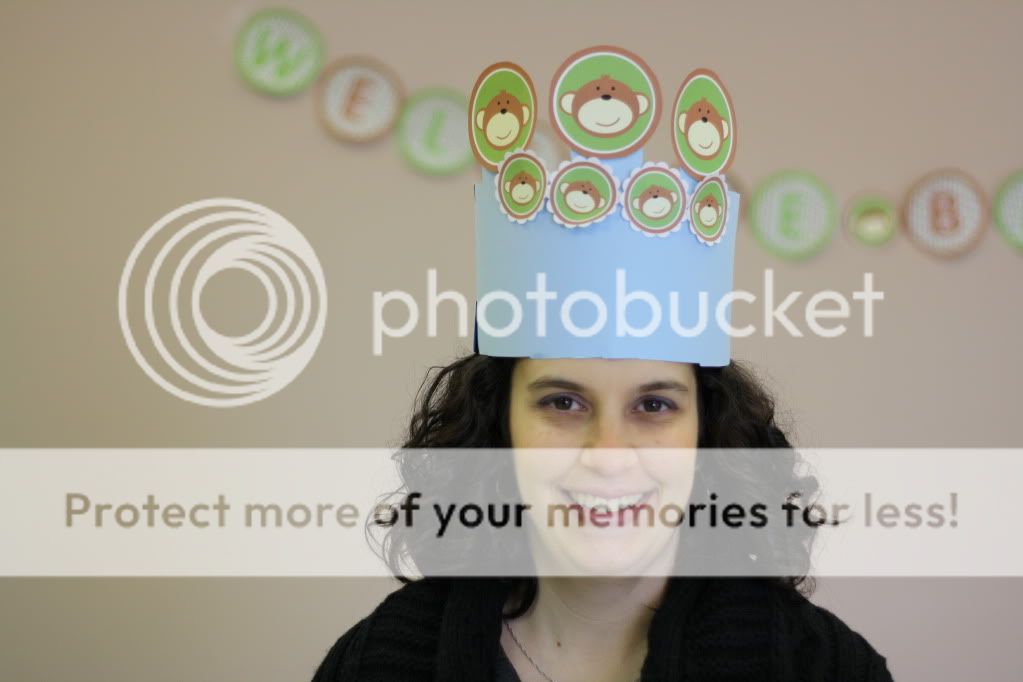 Sage helping open presents.
Now that's a hat!
And that was that.  Now I'm exhausted.  And all crafted out.